Hannah, "Romar's Just For Me" sadly passed away August 10th, 2012.  Hannah was born June 18, 2000 and was the light of her moms eyes.  Freddie and Rick will morn the loss of their special girl.
Romar Windwhistle Lord Byron or more affectionatley known as "Burbie"

Burbie had the distintiction of living longer than any other Romar beardie.

Born June 5, 1995 - Died July 30, 2012 (17 plus years)

He will be so deeply missed by his whole family.
Pictures to follow


Darby Turner - Romar Windwhistle Cheyenne
July 12, 1996 – May 29, 2010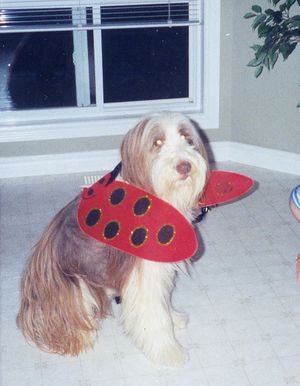 God called and took you too soon. Our grief was overwhelming but eases each day with fond, loving memories, which will linger in our thoughts for the rest of our lifetime.
Whether it was running to catch a ball, swimming, playing soccer or jumping for a frisbee, Darby always made time for his sweet tooth - Tim Bits, Pastries, and his obsession for hunting ladybugs in the backyard (he'd push you out of the way or even off a chair to suck up one of these sweet morsels!) used to keep us all smiling and laughing.
I'll miss those daily walks where you used to literally stop -- and 'smell the flowers'.
Be well and smile down on us as you run across the fields barking with the wind blowing through your hair. You brought us endless love. Until we will meet again 
The Turner Family (Barb, Bob and Mike), Aunt Carol and Cousin Shredder.
Ch. Romar's Encore For Emmett.  Emmett crossed the bridge on October 24, 2008.  He is buried with his owner Terri who passed away a fews days after Emmett.  They are as they were in life - together forever.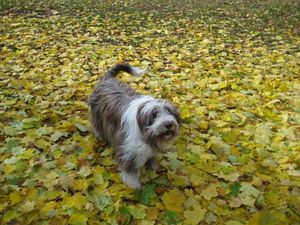 Cash was a Tanglefoot boy. A neardie beardie who was mentor to all.  Cash crossed the bridge April 26, 2009.  He was loved by all who met him, and I know he is playing frisbee and ball and barking to his heart's content.