Clay or Claymore - CH Romar's Undeniable
Clay was born December 7th, 2004.  He is a Penny grandson and his mother is Jewel (Romar's Jewel of my Heart) from the moment he came out the shute I knew he was special.
We had never kept a boy before as it was so much easier not to have to worry about musical doors but there was just something special about him, so I waited and watched and waited and watched some more.  "Was he as good as I thought" so I brought in all the experts that I knew including the best judge his sire's breeder Kelly and the answer was YES.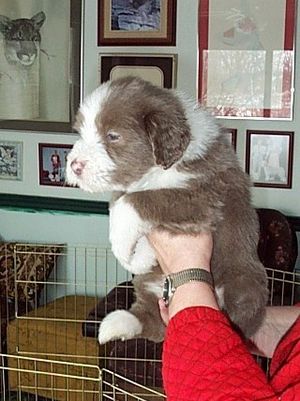 My one concern was his colour.  Clay was a fawn and although it is a recognized colour we have just barely got judges to accept browns "what was I thinking."  Oh well never let it be said we do things the easy way.
Clay is an exceptional fawn with dark eyes and coat colour and has wowed the judges from the first time he hit the show ring, placing in the top ten Beardies in Canada before he was a year old.  I didn't have to worry too much about his colour at that age as most judges just though he was a brown going through his puppy coat.  He was handled by Will Alexander's team and won multiple Puppy Group placements as well as a Best Puppy in Show
Late last summer we decided to start on his US title and do some limited showing in Canada.  Peter Scott handled him to number 4 beardie in Canada and all he needs is his majors to get his US title..
This year our plan was to start limited Specialing him (like a show a month) but he has done far better than expected so there went the budget.  Clay and Peter are the team and on the show circuit Clay is known as Peter's boy. He is number 2 beardie in Canada and this August at the Grey Bruce Show under Fred Heal he won a coveted Best In Show.  This by itself is wonderful but Clay is the first FAWN beardie in Canada to ever win a BIS and only the 2nd beardie in North America to do so with the last one happening over 20 years ago.
Now I don't want you to think that Clay is just another pretty face because he has the nicest personality.  He is a soft boy who wants to please and a harsh word is enough to crush him.  Roland calls him a "mommy suck" because after his run Roland says he lies on my side of the bed and waits all day until I get home.  My problem is that he still thinks he is the size of a puppy and likes lying on me instead of beside me when I lie down.  He loves everyone and everyone loves him.  He makes an absolute pest of himself demanding to be petted and is resposible for more people wanting one of  his puppy.  I could go on and on about Clay but you just have to come for a visit to met him yourself.